Lab2Market@Técnico 2019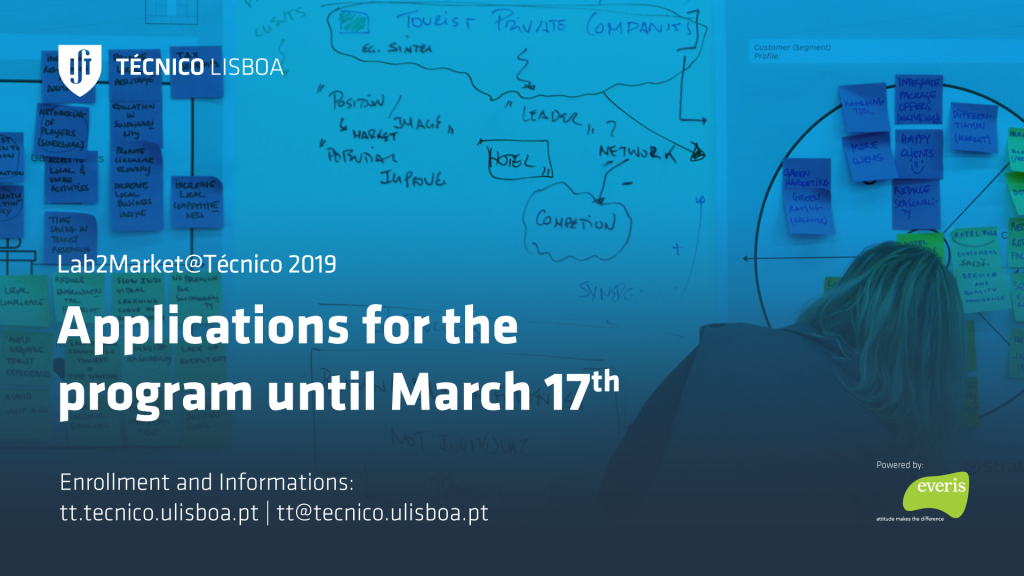 Lab2Market@Tecnico is an innovation acceleration program, on each edition of the program will include 4 to 6 teams of up to 5 members including faculty, researchers, PhD and Master students.
Each team must:
Master an innovative technology in the any area;
Have a clear market orientation and willingness to innovate.
The 2019 edition will have the support of i-Deals and Everis Portugal that will provide a total of 250 hours of business mentoring to the selected projects.
This edition will run from February 2019 until the end June 2019 with the following program/deadlines:
Applications deadline – February 21st 2019 until March 17st 2019;
Pitch: short presentations of pre-selected applications – from 18th to 29th of March 2019;
Results – from 1st to 5th of April;
Follow-Up Meeting – 13rd to 24th of May
Final Pitch – 17th to 28th of June.
Launchin Session | 26th February | 4:30 – 6:30 pm| Room Q01 (Chemistry garden, Alameda)
Results of Lab2Market@Técnico 2019:
These were the selected projects:

| Project Name | R&D Center | Project Manager |
| --- | --- | --- |
| Plasma Enabled Synthesis of graphene and N-graphene/metal oxides nanocomposites | IPFN | Bruno Soares Gonçalves |
| MARIA | IPFN | Yoeri Brouwer |
| FabInventors | IDMEC | Nuno Frutuoso |
| Ftag – Intelligent food packaging | CQE | Ermelinda Maçôas |
| CAF – Catalysts for hyperbranched polyethylene | CQE | Claudia Figueira |
Aplication to the program here