Bondalti/ Amélia de Mello Foundation Merit Award in Chemistry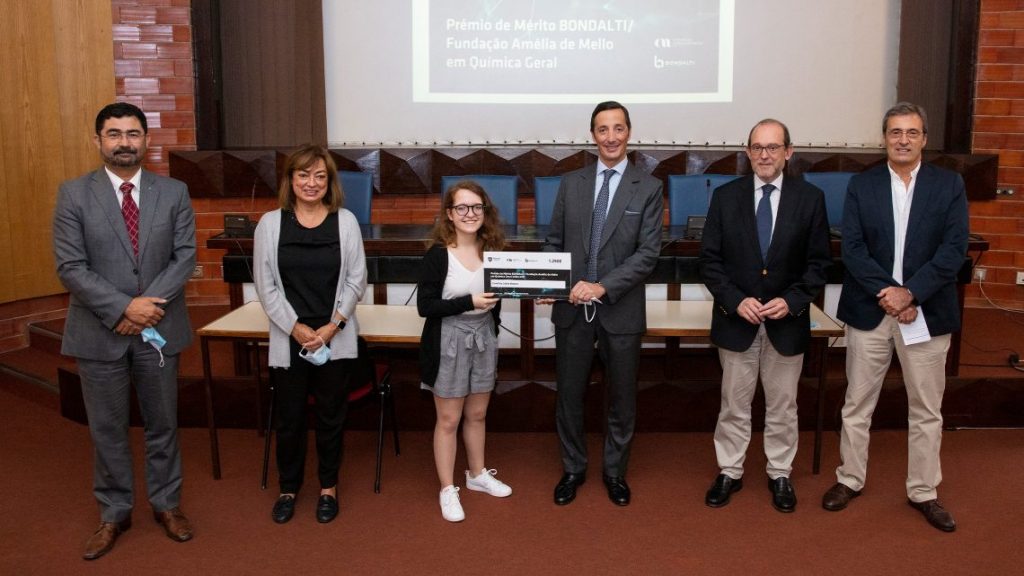 A FAM e a BONDALTI recognizes IST as a prestigious higher education institution that maintains high ethical and quality standards in teaching that it ministers and has an interest in fostering the excellence of future IST graduates.
In order to support an award of academic merit in the field of Chemistry, framing with the history of the José de Mello family and its relevance, under the support policy granted, the Bondalti Merit Prize/Amélia de Mello Foundation was created.
Target audience
All IST students enrolled in the introductory curricular unit of Chemistry, from Departamento de Engenharia Química (DEQ), in the IST bachelor's degree and masters courses.
Assignment Criteria
1. Students will be classified according to their classification (up to the tenths) in the UC of the that year or 2º semester of the previous school year.
2. The tie-breaking criterion should be the student's performance in the laboratories, objectively assessed by the quality of the delivered questionnaires. In the case of Chemistry I students, the questionnaires used will be the ones associated with the curricular unit Chemistry Labs I.
Prize
Monetary prize, to be given to students amounting to € 1290 (one thousand two hundred and ninety euros);
Donation for the improvement of the of education quality, in the amount of 860 € (eight hundred and sixty euros).
Jury
The jury should be composed of more than one IST member and one representative of the BONDALTI/FAM.
Winner of Bondalti/ Amélia de Mello Foundation Merit Award in Chemistry
| Edition | Student Name | Prize |
| --- | --- | --- |
| 2018/2019 | João Pedro Prinas de Almeida Saavedra | 1.290,00€ |
| 2019/2020 |  Maria Francisca Marques Reis Warden Góis | 1.290,00€ |
| 2020/2021 | Carolina Lebre Branco | 1.290,00€ |
| 2021/2022 | Francisco Fidalgo Barros Miranda | 1.290,00€ |
News
TT@Técnico
Corporate Partnerships Unit
pe@tecnico.ulisboa.pt