Worten Merit Award in Warehouse and Materials Management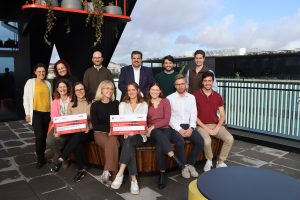 Worten annually awards an academic merit prize to the students who are part of the best team in the Warehouses and Materials Management Curricular Unit of the Industrial Engineering and Management Department.
Target audience and application conditions
The Worten Prize in Warehouse and Materials Management is open to all IST students enrolled in the Curricular Unit of  Warehouse and Materials Management of the Department of Industrial Engineering and Management of IST, specifically the teams formed in the scope of the subject, with a maximum of 5 elements each.
No new team formation (with elements of different teams in the curricular phase) will be allowed, but a team can participate, even if some of its elements do not intend to compete for the prize by elaborating the extra project.
Rules and Conditions
The teams will be ranked according to their final classification obtained by evaluating the project report and the presentation support (e.g. Powerpoint slides), as follows:
A maximum of 5 groups will be selected for presentation before the company jury, these being the best works and with a classification higher than 16 values;
A day will be set for the presentations before the company's jury, to take place in week 8 of the 1st semester (preparation week for P1);
The groups present their work before the company in the order of the group number and without the jury knowing the curricular classification;
In the 48 hours following the presentation session, the jury informs about the group that will receive the merit award
Prize
A monetary prize of 1.550 euros (one thousand five hundred and fifty euros) to be awarded to the winning project;
Donation for improving the quality of education, in the amount of 1.035€ (one thousand thirty-five euros).
Jury
In the 2022/2023 edition the jury will be composed by:
Professor Susana Relvas (Instituto Superior Técnico)
Engineer Hugo Alexandre (Worten)
Engineer Afonso Barroso (Worten)
The jury's decisions will be taken based on principles of good faith and non-discrimination, and are not subject to appeal or complaint. The merit recognized by the jury and the academic performance obtained in the discipline may not coincide
Winners of the Worten Merit Award in Warehouse and Materials Management
| Edition | Project | Names | Prize |
| --- | --- | --- | --- |
| 2021/2022 | Equipa 12 | Guilherme São Pedro; Jéssica Robert; Jorge Mira; Mariana Silva; Vítor Ferreira | 1.550€ |
| 2022/2023 | Optimizing the online orders preparation process | Alexander Stole, Inês Madeira Ferreira, Klara Lundgren, Régis Malpas e Sandra Lindgren | 1.550€ |

Documents
See Portuguese version
News