E.Awards@Técnico – 2020 Edition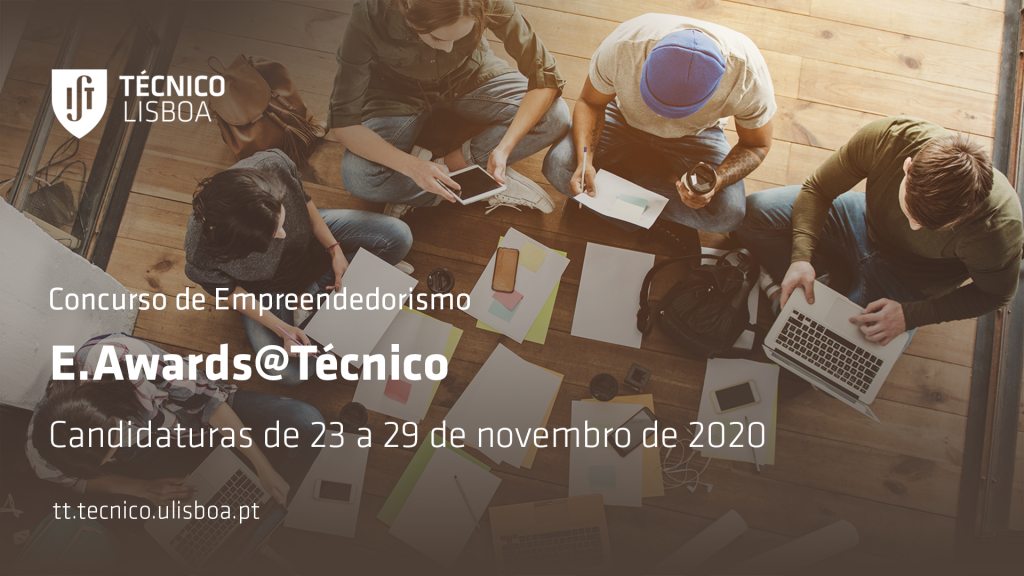 Did you know that if you enroll in an entrepreneurship course this semester you can apply to E.Awards@Técnico – 2020 Edition.
 Purpose:
E.Awards@Técnico aims to support and reward the best projects developed in Entrepreneurship Courses:
Technology-Based Entrepreneurship;
Entrepreneurship, Innovation and Technology Transfer;
Product Development and Entrepreneurship;
Entrepreneurship in Bioengineering;
Entrepreneurship, Innovation and Science Management.
+info: http://istartlab.tecnico.ulisboa.pt/entrepreneurship-courses/.
Target:
Every student who is attending Master Level Entrepreneurship Courses in this semester are candidates to get these prizes. To formalize the participation, a member of the team has to fulfill the application form and submit it in time (see Deadlines)
Awards:
Best E.Project Award by Santander – 2000€ – 1 prize of two thousand euros
2 Honorable Mentions by Armilar Ventures – 2 * 500€ – 2 honorable mentions of five hundred euros each.
Deadlines
23 to 29 of november 2020: deadline for apllications submission;
4th december 2020: announcement of the selected projects.;
16 of december 2020 (in confirmation): public session; every team will have a 3 minutes pitch followed by jury feedback. The winners will be announced in the end of the session.
Jury Panel:
A representative from Santander, a representative from Armilar and three entrepreneurs alumni from Técnico.
Winners E.Awards@Técnico – 2020 Edition
| Award | Project | Team |
| --- | --- | --- |
| Best E.Project by Santander | GoNoGo | Diogo Roque, Maria João Fragoso, Pedro Fulgêncio, Peer Johansen |
| Honorable Mentions by Armilar Ventures | Wavean | André Fabião, Afonso Gusmão, Gonçalo Teixeira |
| Honorable Mentions by Armilar Ventures | Forgetting Dementia | Alípio Gomes, Ana Filipa Correia, Fátima costa, João Henriques, Marta Barata, Teresa Braz |
 News
More information:
Email :tt@tecnico.ulisboa.pt