Lab2Market@Técnico 2020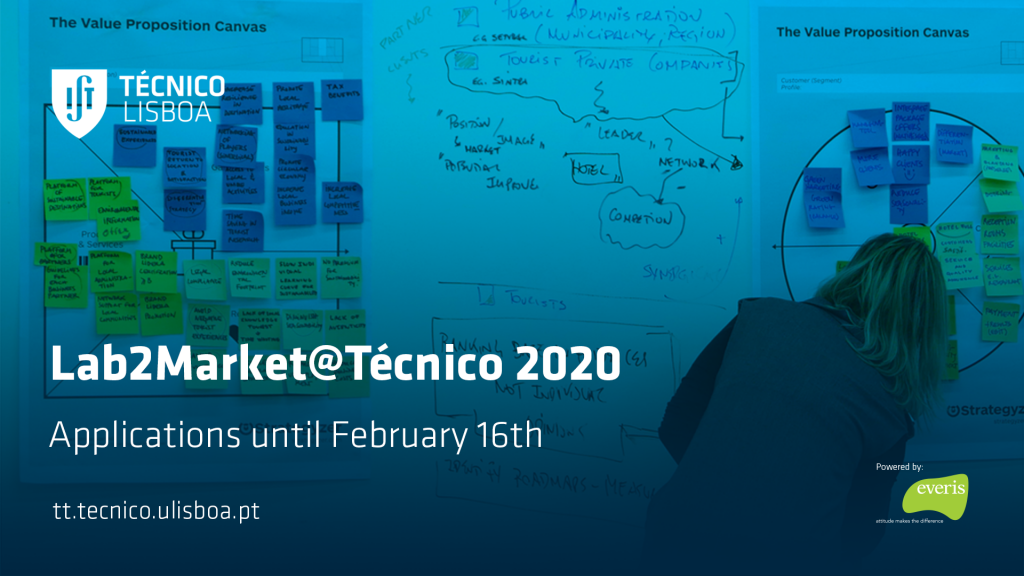 Lauching Session | January 30th – 2:30pm | Room Q01 (Alameda Campus) – Registration here
Lab2Market@Tecnico is an innovation acceleration program, on each edition of the program will include 4 to 6 teams of up to 5 members including faculty, researchers, PhD and Master students.
Each team must:
Expert in an innovative technology in the any area;
Have a clear market orientation and willingness to innovate.
The 2020 edition will have the support of i-Deals and Everis Portugal that will provide a total of 250 hours of business mentoring to the selected projects.
This edition will run from January 2020 until the end May 2020.
Program/deadlines:
Applications deadline – January 13th 2020 until February 16th 2020
Launching Session – January 30th 2020
Pitch: short presentations of pre-selected applications – February 27th 2020
Results – from 2nd to 6th of March 2020
Workshop – March 12th2020
On to One Meeting – March 12th2020
First 4 week working period – 16th March – 10th April 2020
Follow-Up Meeting – April 23rd 2020
Second 4 week working period – 27th April  to 22nd of May 2020

Final Pitch presentation – May 28th 2020
Application to the program HERE

Projects Lab2Market@Técnico 2020:
| Project | R&D Center | Project Manager |
| --- | --- | --- |
| Twionore – Method for Stem Cell Line/s production | iBB | João Manuel Carreira |
| Cathpro – Dry reforming and enhanced absorption water gas-shift reaction for bio-H2 production with in situ CO2 capture | CQE | Paula Teixeira |
| DETU | MEGI | Pedro Saldanha Ramos |
| ASPIR – Antibiotic Screening Platform with InfraRed spectroscopy | iBB | Bernardo Ribeiro da Cunha |
| SCH – Science for cultural heritage | C2TN | Victoria Corregidor |
Documents
Online Video of Launching Session – Here
Contacts
TT@Técnico
+351 21 841 93 00 | tt.tecnico.ulisboa.pt