Lab2Market@Técnico 2022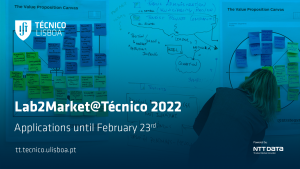 Application to the program Here
Lab2Market@Tecnico is an innovation acceleration program, on each edition of the program will include 4 to 6 teams of up to 5 members including faculty, researchers, PhD and Master students.
Each team must:
Expert in an innovative technology in the any area;
Have a clear market orientation and willingness to innovate;

Have at least 2 elements.
The 2022 edition will have the support of i-Deals and NTT Data Portugal that will provide a total of 250 hours of business mentoring to the selected projects.
Program/deadlines:
Applications deadline – January 31st until February 23rd 2022
Launching Session – 09th  February 2022 | 14:00 | Zoom
Application here: https://ist.pt/lab2market22-session

Pitch: short presentations of pre-selected applications –  3rd March 2022
Results – from 3rd to 6th of March 2022;
Workshop:  9th March 2022  14:00
One-to-one meetings: 10th March 2022
First 4 week working period – 14th March – 8th April 2022.
Mid-Term Meeting – 20th April 2022 | 14:00
Second 5 week working period – 26th April – 27th May 2022
Final Pitch presentation – 8th June 2022 | 14:00 | Museu de Civil
Application to the program HERE

Results of Lab2Market@Técnico 2022:
These were the selected projects:
| Projet Name | Project Manager |
| --- | --- |
|  BreastScreening-AI | Francisco Calisto e Jacinto Nascimento |
| Polyeva Resins |  Mário Garrido; Mateus Hofmann; João Ramôa Correia |
|  Hash Game Store |  Leandro Duarte; Pedro Ribeiro; Joana Alves; João Miranda |
|  PhotoniCoatings |  Laurinda AreiasTiago D. Martins; José Paulo Farinha |
|  New green ionic liquids |  João Paulo Leal; Bernardo Monteiro |
News
Contacts
TT@Técnico
+351 21 841 93 00 | tt.tecnico.ulisboa.pt