Highlights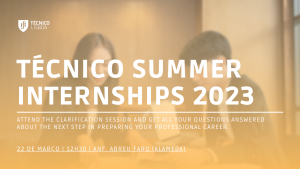 If this idea of making a Summer Internships seems interesting to you and you want to know more about Técnico Summer Internships, you cannot miss the Clarification Session.
March 22, at 12:30 pm at Anf. Abreu Faro (Interdisciplinary Complex, Floor 0), Campus Alameda. Sign up here!
Meetup with CISCO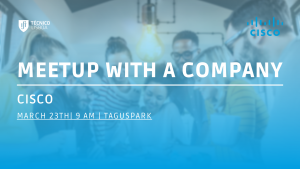 Next March 23rd, at 9am, we challenge you to participate in an informal chat, in Taguspark, while you have a free breakfast with CISCO engineers, all Técnico alumni, and get to know more about their work and the current technological challenges of the company.
Sign up here (until March 21st). Save the date.
As the event will take place at Taguspark, we leave you the schedules for the shuttles available so that you can plan your participation more easily:
Direction Alameda – Taguspark: 7:00 am; 7:15 am; 7:45 am; 8:10 am
Direction Taguspark – Alameda: 11:10 am; 12:10 pm
Did you know that when participating in one of the Career Center activities, you can request a participation certificate that you can use to request credit for extracurricular activities? If you want to receive the certificate send an email to careercenter@tecnico.ulisboa.pt after the event.
We count on your presence!
Técnico Career Weeks 2023


Técnico Career Weeks are back.
Técnico Career Weeks are events organized exclusively by Student Organizations and for students, with the involvement of companies related to the areas of activity of each course.
These events aim to support students in choosing their professional future and allow companies to make themselves known to Técnico students.
Through lectures, workshops and debates, students will be able to get to know their area, the market, train their skills, identify opportunities for summer internships or exchange contacts for the future.
Find all the dates here.
Entrepreneurship and Innovation

E.Awards@Técnico 2023

Are you developing a project in an Entrepreneurship Curricular Unit and want to win a prize up to 3.500€?
E.Awards@Técnico aims to support and reward the best projects conceived by IST students enrolled in curricular units of Entrepreneurship and Innovation.
Find out everything you need to do to apply for this edition's prizes here.
This Might Interest You

Vouchers for Startups – New Green and Digital Products, a measure managed by Start Up Portugal, and financed by the PRR/Next Generation EU.

+ more information here

TecStorm, an event promoted by JUNITEC (Junior Enterprises of Instituto Superior Técnico), is the largest national university technology competition. The 7th edition of the event will take place between April 14 and 16, 2023, at the Champalimaud Foundation in Lisbon.

Registration for TecStorm 2023 is open until December 21, 2022, and all university students and those who completed their studies in higher education in the academic year 2021/22 may register.

+Info HERE

This Impact Program, consisting of online/on-site sessions in partnership with Oxentia, an Oxford consulting firm, is to bring researchers, PhD students and other interested professionals, closer to the main tools and methodologies that will help them have more impact with the knowledge and technologies they are developing.

More information here

THERE IS SEA AND AIR,
THERE ARE IDEAS TO INNOVATE

The Mar & Air program wants to bring more innovation to the maritime and aerospace sectors and for that invites Higher Education Students to participate in this online program of ideas acceleration and empowerment, to present ideas that may solve some of the most relevant challenges of the maritime and aerospace sectors.The 3 winning projects will be awarded with a total value of 1000€.
+ info hereApplications until 20 March here
Follow us: