Highlights
Técnico Alumni Mentoring Program is back!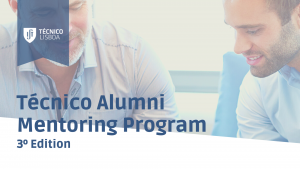 What will life be like after Técnico? How will I take the first steps towards my professional career? How is the transition from student life to the world of work?
I'm sure you've struggled with these questions.
Entering the job market involves uncertainties and some risks, so a mentor can help you, giving you clues for your choices towards a successful career.
Alumni were in your place a few years ago, they have accumulated experiences and are today where you might want to be in the future. Who could be a better help than them?
Learn more about the program here.
Alumni Registration: Here
Student Registration: Registration Form
News