Find job opportunities targeted at Técnico's students and recent graduates!
What are the main advantages of the Técnico Job Bank?
Access internship and job offers directed to the Técnico students profiles.
You can customize your personal profile by making it public and set up job alerts for your programme.
You can search and follow the companies registered at Técnico Job Bank.
Who has access to the Técnico Job Bank?
Técnico Job Bank is oriented to students who are at IST to obtain a degree, recent graduates and alumni (graduates for less than 2 years) of the Técnico.
How can I access Técnico Job Bank?
Case 1 – I have Data Authorization regularized
If you have set the permission to transfer data from Fénix system to Técnico Job Bank for over a week*, you may already have access to Técnico Job Bank.
If so, access this link: https://jobbank.tecnico.ulisboa.pt and insert the credentials of the Fénix system (IST ID + Password).
Case 2 – I don't have Data Authorization
Those who haven't yet authorized to provide data transfer in Fénix system should follow these instructions:
Step 1: Authorize data consent in Fénix system.
As?
Go to the Fénix system, click on "STUDENT" and then click on "DATA Authorization".
You must choose an option that includes the Access to Técnico Job Bank.
Choose the second or third option, as shown in the picture below: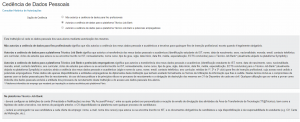 Step 2:
Within a week *, you will have access to the platform. You will receive an email informing that you can access the portal.
You can also access this link https://jobbank.tecnico.ulisboa.pt and enter the credentials of Técnico (IST ID + Password).
Attention:
* Typically data updates on the portal are carried out monthly, typically between the 15th and 20th of each month, but exceptionally during the summer internships applications period should be updated weekly. With the increasing  of the flow of registrations near and during the application period of Técnico Summer Internships program of each year, the time to access the platform may increase.
You can access the Técnico Job Bank through the web or the App
Website: https://jobbank.tecnico.ulisboa.pt
App Android ou iOS (Careers by Symplicity -> IST Técnico Lisboa): https://www.symplicity.com/get/careers-by-symplicity/
Do you have questions about setting up your personal profile or other issues?
Send us an e-mail to pe@tecnico.ulisboa.pt
Técnico Job Bank the opportunity to discover the career of your dreams!
More Information:
TT@Técnico