Técnico Summer Interhips 2022 Clarification Session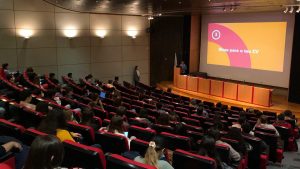 Last Wednesday, March 30, the clarification session of the Técnico Summer Internships 2022 program took place.
The purpose of the session was to explain the dynamics of the program, highlight the diversity of opportunities and answer all the students' questions. The enthusiasm, perceptible in the Congress Center, marked the start of yet another edition of what is one of the most sought after programs by Técnico students.
Applications for students interested in Técnico Summer Internships begin on April 18, via Técnico Job Bank, and the results will be announced by May 31.
Read the article here (only available in Portuguese).
Categories