Road2EIA@Técnico – How to be an innovator!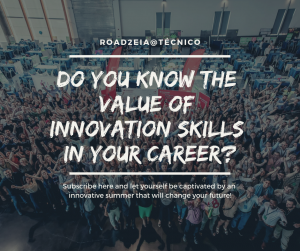 Innovators change the world. Are you one of them?
This year, with the support of Santander Universidades, 30 Técnico students will receive a scholarship of €1899 to participate in the European Innovation Academy (EIA) in Cascais. These students will join others from around the world to work in teams and search for innovative solutions to real-world problems with the help of global experts that will be visiting Portugal just for this. Ken Singer of the University of California, Berkeley says: "you will learn quickly what you are good at and the things you need to work on. You can't read it in a book."
During the month of April, TT@Técnico is going to organize a set of events that will allow you to:
know more about EIA;
talk with the organizers and participants of previous editions;
better understand what innovation is and why do companies value it so much;
have a better chance to win a scholarship.
Are you curious about this? To follow the road to EIA you *really* need to leave your email here.
In the meantime, you can watch the videos on EIA Portugal 2017 and  2018.
See you soon?
The TT@Técnico team
Follow us:
Facebook: goo.gl/Y2wPWs
Instagram: goo.gl/FyHzCw
LinkedIn: goo.gl/Yw1ju4
Categories