Highlights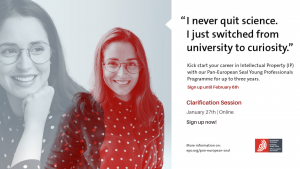 Do you want to be one of Técnico's nominees for the Pan-European Seal Program 2023/2024?
The Pan-European Seal is a trainee program offered by the
EPO
and the
EUIPO
for students and alumni of some of the biggest European universities.
If you are looking for an international experience and you are curious about the work that is done in the field of Intellectual Property (IP) then this could be your opportunity.
Applications are open until February 6th through this form.
An Information Session will take place in January 27th, 3 pm, via Zoom. Sign up here.
Any doubts? More information and regulations* here or send an email to pi@tecnico.ulisboa.pt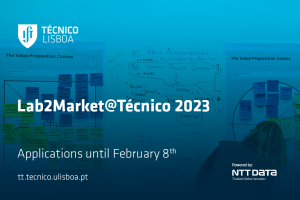 Lab2Market@Técnico is an innovation acceleration program organized by Técnico with the support of i-Deals and NTT Data Portugal, in which each team will receive consultancy
with the aim of finding the best way to enhance the technologies that the teams bring to the program.
Application Form – until February 8, 2023.Presentation session: January 18, at 2 pm, via Zoom or in person. 
Prior registration required
.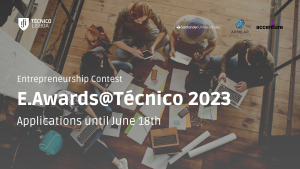 Are you developing a project in an Entrepreneurship Curricular Unit and want to win a prize up to 3.500€?
E.Awards@Técnico aims to support and reward the best projects conceived by IST students enrolled in curricular units of Entrepreneurship and Innovation.
Find out everything you need to do to apply for this edition's prizes here.

Innovation and Entrepreneurship

Vouchers for Startups – New Green and Digital Products, a measure managed by Start Up Portugal, and financed by the PRR/Next Generation EU.

+ more information here

TecStorm, an event promoted by JUNITEC (Junior Enterprises of Instituto Superior Técnico), is the largest national university technology competition. The 7th edition of the event will take place between April 14 and 16, 2023, at the Champalimaud Foundation in Lisbon.

Registration for TecStorm 2023 is open until December 21, 2022, and all university students and those who completed their studies in higher education in the academic year 2021/22 may register.

+Info HERE

Aplications for ScienceIN2Business Impact Program promoted by Tec Labs are open.

This Impact Program, consisting of online/on-site sessions in partnership with Oxentia, an Oxford consulting firm, is to bring researchers, PhD students and other interested professionals, closer to the main tools and methodologies that will help them have more impact with the knowledge and technologies they are developing. More information here

The INNOV-ID Call aims to fund early-stage, Pre-Seed, Seed or Early-Stage companies that have a developed technology and have potential for growth and scalability in the global market.

Apply until January 27, 2023
+ More information here

S3E will provide skills to researchers and technology transfer actors in science-based entrepreneurship and technology commercialization, supporting growth stage start-ups in business development and in procuring investment, and providing technology brokerage for corporates and scale-up stage start-ups and SMEs.

Applications are open until February 10th. More information here

Growth Academy: Cybersecurity

A three-month program providing cybersecurity startups with essential growth skills, internationalization strategies, and Google tools & products to help them scale.

Apply by February 12th, here.

More information about the program here
Follow us: