Alumnae return to Técnico to show that success has no gender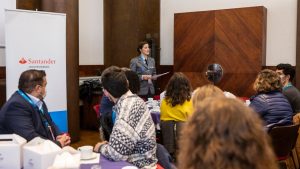 The 14th edition of the "Alumni Talks – Women Edition", held today, March 8, brought together inspiring women and dozens of male and female students.
Amélia Santos (Co-founder and Executive Director at Innuos), Ana Cláudia Sá (General Manager at Bel Benelux Cluster), Diana Morais (Lieutenant Colonel, Head of the Office for Equality, Ministry of National Defence, and Chair of NATO Committee on Gender Perspectives), Joana Arina, (Data Engineer at Portugália Airlines) and Sofia Vaz Pires (CEO/Chairwoman at Ericsson Portugal) shared their inspiring career paths.
The alumnae recalled their academic journey at Técnico and highlighted the importance of training opportunities and taking risks, and the challenges in today's job market. "There's no such thing as a fixed career path to be successful. What really matters is that you feel that you have the opportunity to learn at each stage of your career path", highlighted Sofia Vaz Pires.
Read the full article here.
Categories