Alumni Talks Women Edition marks the 8th of March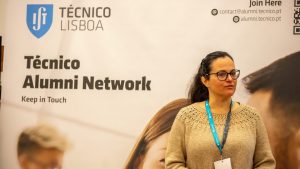 The Alumni Talks – International Women's Day Special Edition took place on 8th March at Alameda Campus. The alumnae and current students shared some experiences before the event started. "I entered the job market about two and a half years ago thanks to Pitch Bootcamp", said  Madalena Perloiro, Técnico alumna (Industrial Engineering and Management) and Logistics Efficiency and Supply Chain Manager at Jerónimo Martins, talking with some of the participants.
At the beginning of the session, the President of Técnico, professor Rogério Colaço, said "there is a common trait in female engineers, which is courage and character strength", and then he stressed the upward trend of women at Técnico that has been observed for some years.
Full article here.
Categories