Martim Lancastre scholarships: "We believe that people's education is the most powerful investment in life"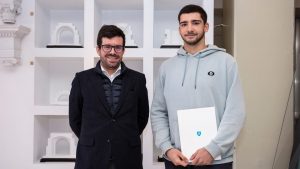 José Contreras Lopes, a 1st year student of the Mechanical Engineering Degree, is the first Técnico student supported by the "Martim Lancastre" Scholarship Program.
The grant contract signing ceremony took place last Tuesday, February 1st, at the Civil Engineering Museum. The ceremony was attended by the Mecenas family, the vice president of Técnico for Academic Affairs, professor Alexandre Francisco, the president of the Department of Mechanical Engineering (DEM), professor Pedro Coelho, the coordinator of the Technology Transfer Office (TT Tecnico), Carla Patrocínio, and the Academic Development Nucleus (NDA) team.
The student, now a scholarship holder, highlighted the importance of this scholarship in his academic career: "it allows you to study and not have to worry about the financial part, which is very good".
Read the full news here.
Categories