Team of students of Técnico wins merit award given by Vodafone with a SmartMirror project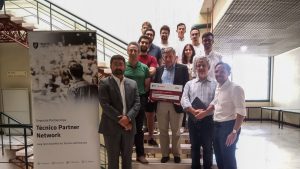 Técnico's team of students wins a merit award given by Vodafone with the SmartMirror project.
May 11th was the date chosen for the delivery of the Vodafone merit award to the groups of students enrolled in the Mobile and Wireless Networks curricular unit of the Department of Electrical and Computer Engineering (DEEC) in the academic year 2020/2021 . The award ceremony included a final pitch of the four best projects and took place in the VA1 Amphitheater of the Civil Engineering Pavilion. The winning project was SmartMirror, an intelligent mirror that activated its features through facial recognition.
Read the full article here.
Categories