Futurália brings together hundreds of visitors interested in Técnico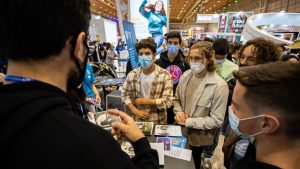 Técnico returns to Futurália!
It took four days to show what it's like to study at Técnico.
Training offer, extracurricular projects and academic life were some of the topics that could not be left out.
The clarifications were provided by the Técnico Ambassadors and Guides from the Student Support Center (NAPE) who sought to clear up all the doubts of elementary and secondary school students who sought the Técnico stand.
Full article here.
Categories