Industrial Engineering and Management students win Worten Merit Award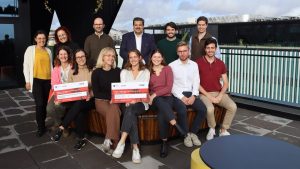 Last Wednesday, 14th December, the Industrial Engineering and Management MSc students, presented their project within the scope of the Warehouse and Materials Management Curricular Unit, at the 2nd edition of the Worten Merit Award 2022/2023.
Alexander Stole, Inês Madeira Ferreira, Klara Cecilia Lundgren, Régis Jean François Malpas and Sandra Lisa Mailda Lindgren created a project that focuses on optimising the online order preparation process, with the aim of increasing its efficiency by reducing the number of errors and order processing time. This project stems from the group's observation and analysis of the logistics of a warehouse, which identified gaps in the online order preparation process.
Full article here.
Categories