Santander and Técnico reinforce strategic partnership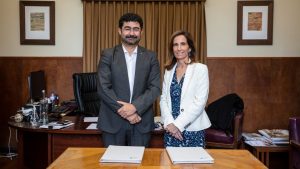 This Tuesday, March 8, Instituto Superior Técnico and Santander Bank renewed their partnership. The agreement signed by the president of Técnico, professor Rogério Colaço, and the president of the Santander Portugal Foundation and Head of ESG at the Santander Group in Europe, Dr. Inês Oom de Sousa, renews the bank's presence in Técnico Partner Network. The Santander Portugal Foundation will also support Técnico in the digital transformation and sustainability.
"I am very pleased to be renewing this partnership that has been so fruitful for Técnico and for the country", said professor Rogério Colaço.
"Técnico is a strategic partner, so it is also with great pleasure and happiness that we see this partnership being renewed", shared Dr. Inês Oom de Sousa.
Read the full article here.
Categories