Técnico and Jerónimo Martins sign a collaboration agreement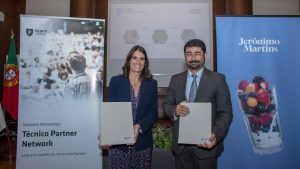 Jerónimo Martins joins Técnico's network of partners. Attribution of merit awards and participation in outreach activities to students will be some of the contributions of the business group.
This Wednesday, June 29th, Técnico and Jerónimo Martins signed a collaboration agreement within the scope of Técnico's Partner Network. The event took place in the Meeting Room of the Central Pavilion and had as its high point the focus on what will be the participation of the business group in the most diverse dimensions.
Full article here.
Categories