Applications: 15th April to 6th May, 2019
Selection of Candidates: 7th May to 2nd June, 2019
Results: until 3rd June, 2019
Signing of Contracts: 3rd  to 30th June, 2019
Técnico Summer internships: 1st July to 13th September, 2019
In order to increase the students' availability for curricular enrichment activities, Técnico anticipated the end of the second semester exam period. One way to enrich your resume is to enroll in a summer internship within a company between the months of July and September.
1. Importance of Summer Internships:
These internships will be important for students to get to know business reality as well as an opportunity for companies to contact students who skip part of their vacation to apply their knowledge and get in touch with a new environment. The integration in a work team, where daily there are new challenges, will complement the academic formation and can give new perspectives in the learning of the subjects.

2.Access to Summer Internship Offers: Apply to a summer internship through the Técnico Job Bank.
Website: https://jobbank.tecnico.ulisboa.pt
3. ISTSI-Técnico Students' Organizations:
AeroTéc; Fórum Civil; Fórum Mecânica; N3E; NAEN; NEB; NEBM; NEEA; NEECIST; NEEGI; NEETI; NEIIST; NEMat; NEQIST; NFIST; NMATH; NucleAR; NUMIST
4. Summer Internship Contract + School Insurance:
The regularization of the internships is done with the signature of a short term contract, that will allow the coverage by the School Insurance. The internship contract defines the duration of the internship, the start and end dates of the internship, the location and the work schedule, as well as the internship scholarship. The company must present a trainee plan with identification of the supervisor and the definition of the objectives of the traineeship.
5. Evolution of Técnico Summer Internships: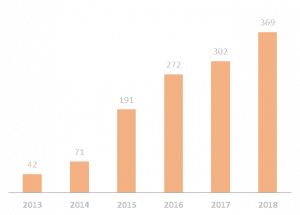 6. More information about Técnico Summer Internships:
Check the FAQ's Here .  For other questions send us an e-mail: pe@tecnico.ulisboa.pt
TT@Técnico