"Smart Vase" project wins Vodafone Merit Award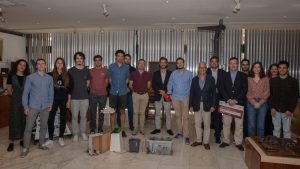 Vodafone awards a merit award to the Smart Vase project developed by a Técnico student.
The prize in the amount of 1,310 euros was awarded by Vodafone to the best project presented by students from the Mobile Networks and Internet of Things course unit.
On the 29th of June, the VA2 Amphitheater of the Civil Pavilion prepared to host a session for the attribution of the Vodafone Merit Award in the Mobile Networks and Internet of Things curricular unit of the Department of Electrical and Computer Engineering (DEEC) for the academic year 2021/2022. Six finalists were selected, with student João Rocheteau's Smart Vase project winning.
Full news here.
Categories